Reservations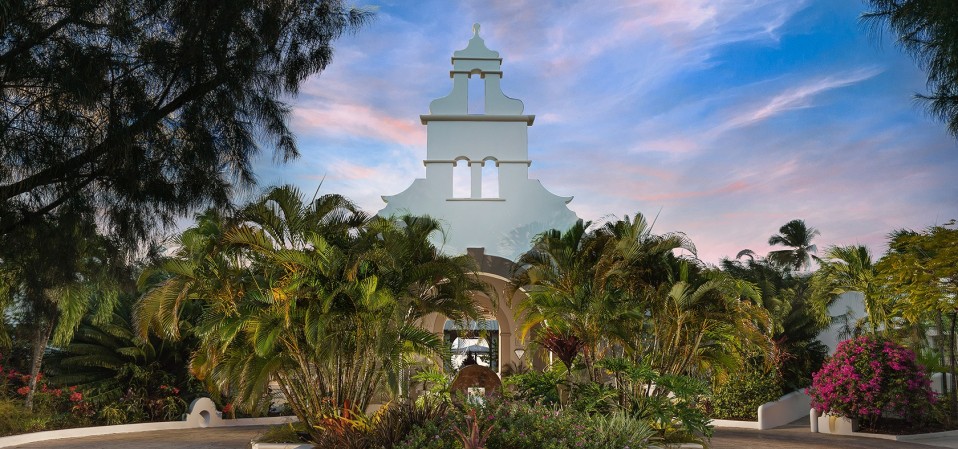 Press
In The News
Spice Island Beach Resort Recognized For 7th Year With Six Star Diamond Award By American Academy Of Hospitality Sciences
January 20, 2020

GRAND ANSE BEACH, Grenada (Jan. 14, 2020) - Sir Royston Hopkin KCMG, chairman and managing director of Spice Island Beach Resort (www.SpiceIslandBeachResort.com), received two prestigious honours at his recent 75th birthday celebration - the 2020 Six Star Diamond Award from the American Academy of Hospitality Sciences (AAHS) for the 7th consecutive year and a Six Star Diamond Award from the organization for Oliver's, a first-time recognition for the resort's fine dining restaurant. Joseph Cinque, chairman and CEO of AAHS, attended Sir Royston's party to personally deliver the awards honouring Spice Island Beach Resort's owners, management and staff members as Grenada's premier all-inclusive luxury resort.
"We are very proud to start the New Year with news that Spice Island Beach Resort has been honored once again with the AAHS Six Star Diamond Award for the resort as well as the first Six Star Diamond Award for Oliver's restaurant," said Sir Royston. "We constantly strive to achieve the excellence required in the luxury travel sector to earn these distinguished awards, which represent our dedication to providing the highest levels of customer satisfaction," he added.
"Earning the Six Star Diamond Award for Oliver's is a reflection of the gastronomic excellence we have developed along with Head Chef Jesson Church to provide a fine-dining experience that captures the local flavours, our family's personal recipes and international cuisine in an extensive table d'hote menu," said Sir Royston.
The Six Star Diamond Award is one of the most prestigious honors of true excellence in service, hospitality, gastronomy, attitude, quality and cleanliness. The American Academy of Hospitality Sciences specializes in reviewing hotels, resorts, spas, airlines, cruise lines, automobiles, products, restaurants and chefs, and is most notably known for its Six Star Diamond Award.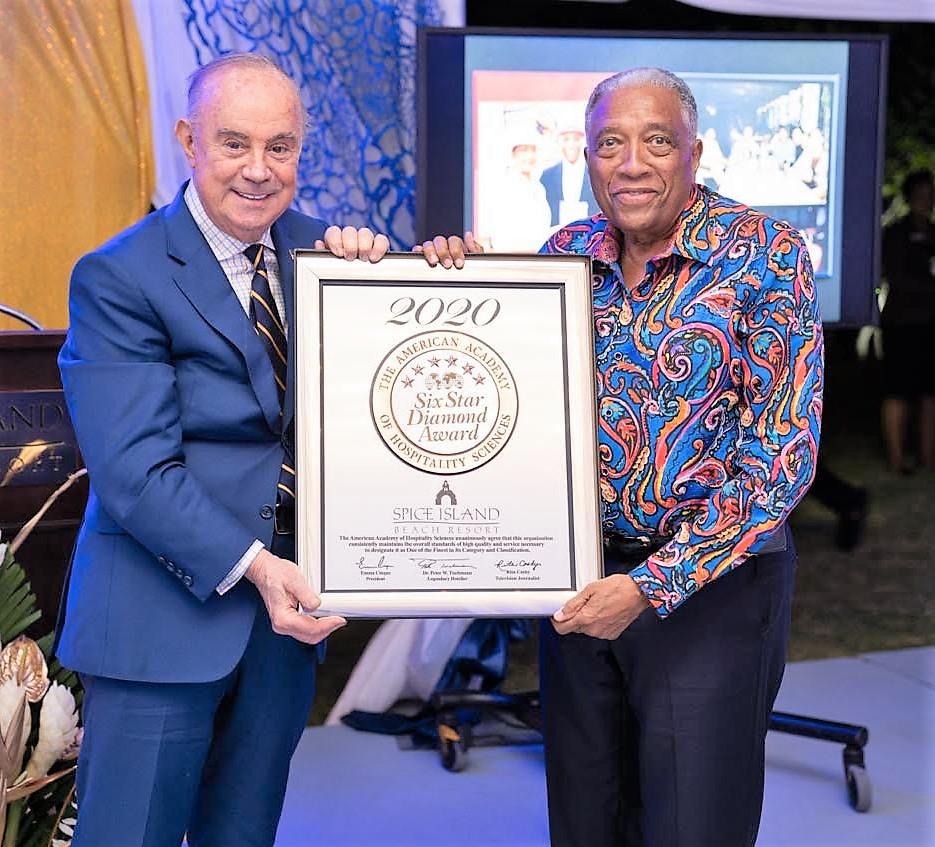 AAHS receives a large number of possible recipients for the award from respectable sources around the world. The selection is then refined by the Board of Trustees and the final evaluation is a visit by an anonymous inspector to review the destination and its services.
The presentation of the AAHS Six Star Diamond Award follows the announcement in November 2019 that the resort has received the highest honor from the prestigious AAA reviewers, the 2020 AAA Five Diamond Award, the fourth consecutive year the resort has been bestowed this honour.
Tucked away on a spectacular stretch of Grand Anse Beach just 10 minutes from the airport, Spice Island Beach Resort encompasses 64 elegantly-appointed suites including three private pool suite categories as well as luxurious beachfront accommodations which open directly onto the sand. The independent, family-owned property has garnered significant attention in recent years as Grenada's tourism stature grows internationally.
All suites are air conditioned and outfitted with spectacular five-star amenities including the softest and smoothest Italian Frette bathrobes and linens, Molton Brown bath and body amenities, chaise lounges and patio or balcony.
The award-winning Oliver's has earned a reputation for gastronomic excellence by taking advantage of Grenada's abundance of exotic spices and local fruits, as well as the resort's on-property spice and vegetable garden for fresh, farm-to-table gastronomy. Oliver's restaurant offers an extensive daily table d'hote menu with seven-course meals ranging from diet-friendly to decadent, served in an elegant, open-air, beach front environment. An unparalleled dining experience drawing inspiration from Sir Royston's family cookbook and curated by Chef Church, Oliver's features Creole and international cuisine beautifully presented to the highest standards for breakfast and dinner.
Spice Island Beach Resort features the full-service Janissa's Spa, a beachfront yoga pavilion, a fully equipped fitness center, Oliver's beachside gourmet restaurant, the Sea & Surf Terrace for light lunches, the Sea & Surf Bar for refreshing cocktails throughout the day, a central swimming pool with swim-up whirlpool, an Omnicourt® tennis court, the Nutmeg Pod children's activity center, the Gatsby Boutique and more.
An all-inclusive vacation at Spice Island Beach Resort features gourmet dining (daily breakfast, lunch and dinner) including premium cocktails and house wines; afternoon tea; oceanfront swimming pool and non-motorized watersports; island tours, scuba diving and sailing charters; access to the resort's state-of-the-art fitness center; tennis, cycling and golf (greens fees at the nine-hole Grenada Golf Club included); full-day children's activities program (ages 3-12); high speed Wi-Fi; and room service (delivery fee applies).
In addition to the AAHS and AAA honours, Spice Island Beach Resort has been voted within the top luxury hotels in the Caribbean on TripAdvisor based on guest reviews. In 2019, the premier property was ranked fourth out of 25 luxury Caribbean hotels in the TripAdvisor Travelers' Choice Awards. The resort has also been recognized as one of the "Best All-Inclusive Resorts in the Caribbean" in a 2019 U.S. News & World Report.
The resort has received the 2020 Condé Nast Johansens "Best Hotel with a Spa" award, 2019 "Best Dining Experience" award and the publication's 2016 "Best Service" award.
Spice Island Beach Resort is a proud member of the esteemed Small Luxury Hotels of the World (SLH) collection, and a member of Virtuoso, Signature Travel Network and Green Globe.
Sir Royston Hopkin KCMG, chairman & managing director for Spice Island Beach Resort, is the proud recipient of the Minister's Outstanding Achievement Award from Hon. Clarice Modeste-Curwen, Grenada's Minister of Tourism and Civil Aviation as well as the prestigious Trail Blazer's Award.
For more information, contact Spice Island Beach Resort toll-free at US 1-800-501­8603 or UK 0808-189-0088, tel: 473-444-4258, fax: 473-444-4807, e-mail: reservations@spicebeachresort.com, or visit www.SpiceIslandBeachResort.com. Download hi-res images of Spice Island Beach Resort via www.spiceislandbeachresort.com/imagelibrary. Connect with Spice Island Beach Resort on Facebook, Instagram and Twitter.

Share

x